Explanations of Screens
This section explains the interface screens in DOX.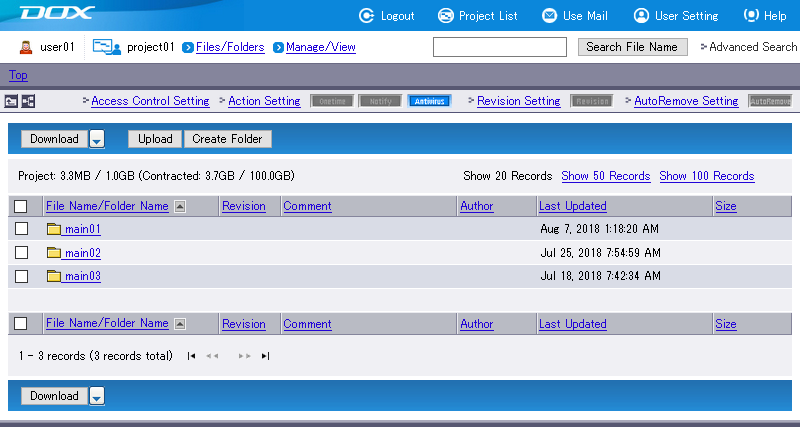 Term
Description
Basic menu
Consists of "Logout", "Project List", "User Setting" and "Help".
Search
Search for files and folders in DOX.
Folder Navigation Icon
Navigate through folders.
Click to move up to the parent folder.
Click to switch to the tree view. Tree view only lets you move between the folders, and you cannot perform other operations such as copy and delete.
Moving folders will clear any checkbox(es) previously marked.
Current Folder
List the contents of the current folder.
Action Setting
Set actions to the current folder.
The icons of enabled actions are displayed in blue.
Revision Setting
Sets revision management to current folder.
Enabling the revision setting turns the color of the "Revision" icon to blue.
Files/Folders
Select various Files/Folders operations.
Upload
Upload any file to the current folder.
Create Folder
Create a new folder in the current folder.
Page Navigation
You can click one of "Show 20 Records", "Show 50 Records", and "Show 100 Records" to change the number of records to be displayed in a single page of the Files/Folders list.
When one folder has too many files and folders to fit in a single page, you can click an arrow or page number link at the lower left of the screen to move to another page.
Even though you move to another page of the same folder after you selected the checkbox(es) of a file(s) and/or folder(s), the selection is preserved. However, operation is only effective for files and folders in the page displayed.
Files/Folders List
The list of files and folders in the current folder.
You can click a column heading to sort files and folders by information in the column.
The checkbox in the heading line is useful to select all of displayed files and folders.