Onetime Upload
What is Onetime Upload?
DOX Onetime Upload uses the DOX mail function to provide temporary privileges to users who do not have an account, allowing them to upload a file once.
All of the following requirements must be met to use this reply function:
The From mail address is registered to a DOX account.
The corresponding mail has not been replied to.
The number of people who have replied has not exceeded the maximum number of replies.
The maximum number of replies is equal to the number of mail addresses specified in To and Cc.
For mail with one mail address specified in each of To and Cc, up to two users can reply.
Additionally, when the incoming mail page is open while logged in to DOX, the "Reply" button is displayed regardless of the above requirements.
This means that DOX users can reply to each other without limit.
About This Function
The Onetime Upload function is like a return postcard using e-mail.
This function allows users receiving mail from a DOX user to reply by mail with a file attachment.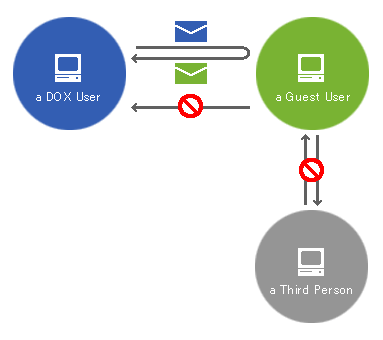 Reply to Mail (Onetime Upload)
【注意】
When composing a mail reply, specify the mail address of the user replying in "From".

Because the account of the user using the reply function is not managed, this indicates who has replied.

The decision of which mail address to specify is left up to the user replying, so be aware that the correct From address may not always be specified when mail replies are received from multiple users.
【参考】
To use Onetime Upload, "Onetime Upload" must be set to "ON" in "Mail Misc".


See "Mail Misc

" for more details.
Open the URL included in the mail received using a browser, and click the "Reply" button.
See "Read Mail" for more information about how to read the mail sent.






When the "Compose reply mail" page appears, enter the following items.

Term
Description
Select From (required)
Select the mail address of the user using the reply function from the list box.
Cc
Click "Show Cc Field" to display a text box, and enter the Cc address.
Subject
Enter a subject.
Message Body
Enter the body of the message.
File Attachment
Select a file to attach to the mail.
The file uploads to DOX instead of actually being attached to the message.
Message will have the URL link to the file.
File Attachment Comment
You can enter a comment for the file attachment.
Authentication Method (required)
Select from "Password Authentication", "DOX Authentication" or "No Authentication".
Password (Retype)
Enter the password again.
Effective Period
Specify the period during which the file attachment can be accessed.
Allowed Open Count
Set an Allowed Open Count between 1 and the maximum.
The maximum count can be changed in "Manage/View" under "Misc".

【注意】

Read Receipt cannot be used.
The address book, signatures, and templates cannot be used.
The destination address cannot be specified freely.
Bcc addresses cannot be specified.

Click "Reply".




The "Reply mail has been sent" page appears.